STEPS FOR HOPE Walk

Sunday, July 12, 2020

Creve Coeur Park in in Sailboat Cove

13725 Marine Ave, St. Louis, MO 63146
Join us for our 22nd

annual

STEPS FOR HOPE walk -- re-invented social distance style!

We've designed the day to comply with local health guidelines regarding social distancing to make it safe and fun for everyone by offering in-person and virtual participation! Invite your family, friends, and coworkers to take their own STEPS FOR HOPE and help make a difference in the lives of people impacted by cancer in our community.

Day Includes:
Community, Kids Activities, Raffle, Tribute Signs, Food, Entertainment, and LOUIE!
Event emceed by Y98's Julie Tristan!

Choose a 1 mile or 3.7 mile walk or fun run around beautiful Creve Coeur Lake.
1 mile: Start at the Tremayne Shelter and walk to the Taco Bell Shelter. If you walk 1 mile you will board a shuttle at the Taco Bell Shelter and be returned to the Tremayne Shelter (seating on the shuttle will be social distanced)
3.7 miles: Start at the Tremayne Shelter and walk around the lake and end back at the Tremayne Shelter.
Registration:
March 12 - July 7: $45
(includes a STEPS FOR HOPE t-shirt)
Registration minimum: $25
(does not include a STEPS FOR HOPE t-shirt)
The walk starts and ends at Tremayne Shelter in Sailboat Cove with walk start times staggered every 30 minutes from 9am to 3pm.
Please select a start time below (some times slots are already full and not listed below, please pick another option!)
(Online registration closes at midnight on July 7 - there will be NO on-site registration this year)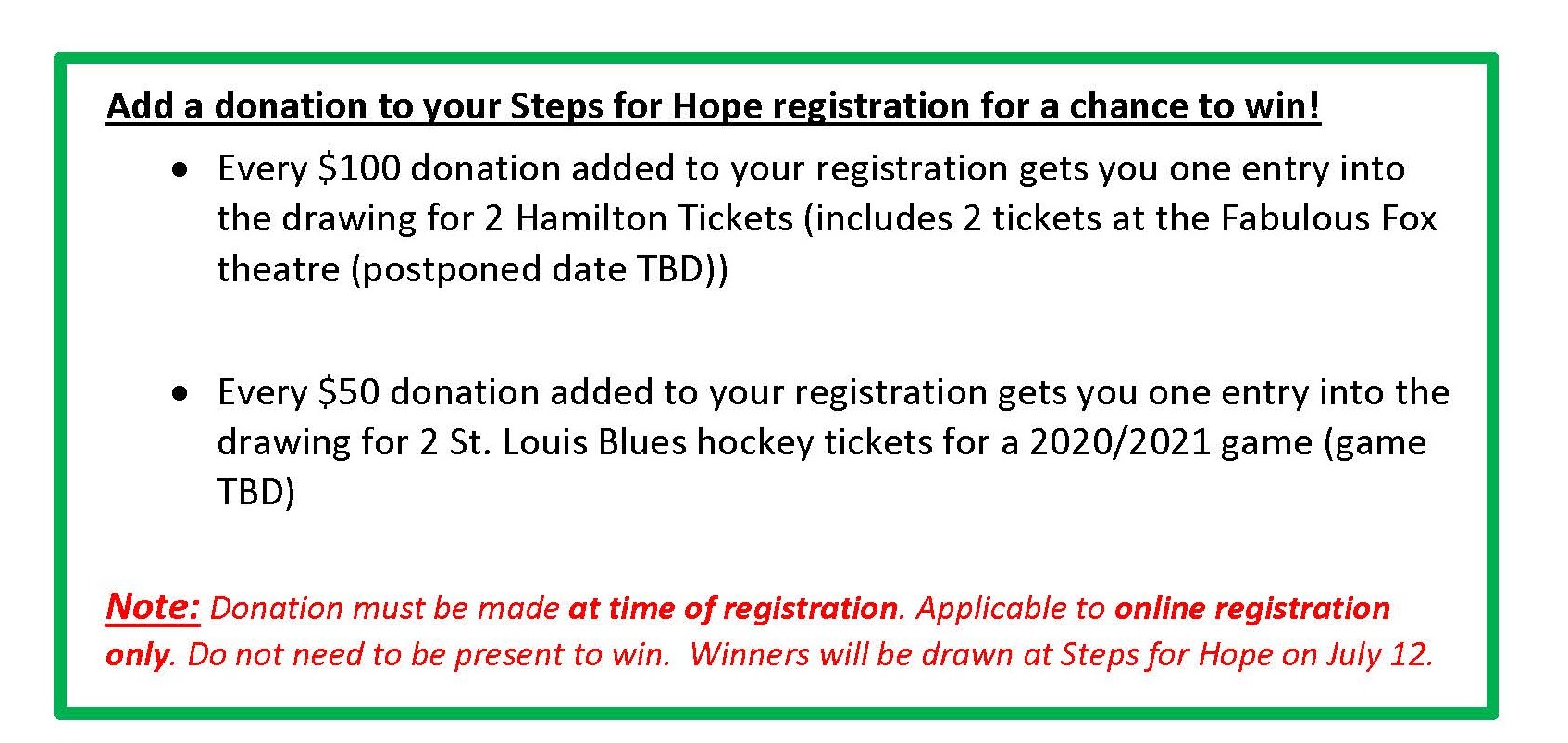 Virtual Steps For Hope
Take your own STEPS FOR HOPE on July 12 and participate with us virtually! Keep an eye on your inbox as we have a few fun virtual opportunities leading up to the walk as well as more information on how to join us virtually on July 12th! It's easy and you can choose where to participate--anywhere or everywhere!
Training Regimen:
To help you get ready for the day whether you plan to attend in person or participate virtually we created a fun and easy training regimen that includes steps to take to get ready for the big day on July 12th! It also includes a week-by-week guide to keep you on track! Click below to access your very own guide!

Design your own training course to follow or try one of the sample walking routes we created! Below are just a few around St. Louis to get you out and moving!
Be sure to check out our Facebook Event called "Steps For Hope Training Regimen"! Follow along and post your own pictures and updates as you begin your training regimen adventure!

To get you amped up and provide some fun listening music during your training, we've created a 2020 Steps For Hope playlist on Spotify! If you have suggestions on songs to add that include "walk" or "run" or simply those tunes that get you "on your feet and moving" – send them to info@cancersupportl.org so we can get them added to the playlist!

Sign in to your team page:

Support Steps for Hope:

Tribute Path Signs: $75 each
(a special way to celebrate a survivor, honor someone special, or remember a friend or loved one. Tribute signs will be displayed on the walking path at Creve Coeur Park on July 12th as well as posted on our website after the event in a virtual path style for those who could not attend)
(Deadline to order a sign is June 26)

Raffle Tickets: $5 each or $20 for 5 tickets
(Online raffle closes at noon on July 8 - you can purchase tickets at the Raffle Tent on July 12th at Steps for Hope.Drawing will take place at Steps for Hope on July 12th. Do not need to be present to win)

Become a Sponsor!
View Sponsor Opportunities Here:

Corporate Sponsorship:

Individual Sponsorship:

(Sponsor deadline to be included on Event Promotions and T-Shirts is June 10)