STEPS FOR HOPE Walk

Thank you for joining us for our 22nd annual Steps for Hope walk!
Our re-invented social distance style event was Sunday, July 12th at beautiful Creve Coeur Park!

We had many opportunities to participate both in-person and virtually!

Huge thank you to Julie Tristan from Y98 for being our 2020 Steps for Hope Emcee and creating this amazing video of our eventful day!
For those who were unable to join us in-person we wanted to share your tribute virtually! You can view our Steps for Hope 2020 Tribute Path in the video below!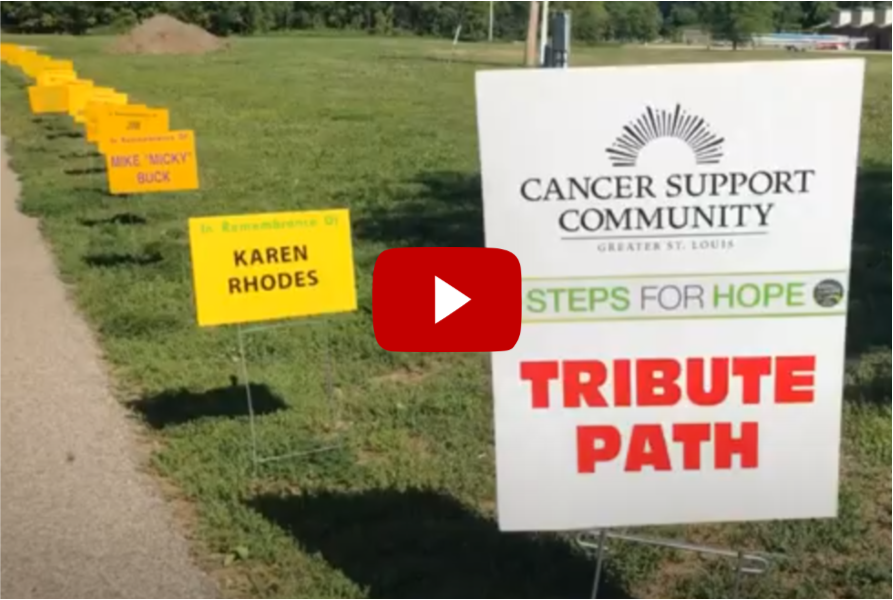 Sign in to your team page:

Support Steps for Hope:

Do you have questions or concerns? Check out our FAQ! If you still have questions or concerns, email us at info@cancersupportstl.org

Thank you to our generous sponsors!
Saint Louis University Cancer Center
Mercy
Graybar Foundation | Land Dynamics, Inc. | The Merck Foundation | PRI Global | Raymond James & Associates | St. Luke's Hospital
Charles and Jean Naslund | Jeffrey and Jan Dicke | Jessica Millner | Nathan and Gina Nelson | Peggy Scott
The Daniel and Henry Co. | Peggy and Mike Nelson
Ann and Tim Plunkett | Bamboo Equity Partners | Cummings, McGowan & West | Enterprise Bank& Trust | INB, N.A. | Koch Development Co. | Markay Management | Onedesk | Renaissance Financial | Wells Fargo
Anthony Garavaglia | Carolyn and Matt Gollub | Mark Goran | Marilyn and Gary Ratkin
Paul and Patricia Richard | Rebecca and Paul Romine | Jay and Jan Simon | Lori and Mike Thaman
Gary Wolff