Our News
There Is Healing In The Lyrics At Cancer Support Community
(February 22, 2017)
"Each person has a story to be told, a voice to be heard, and a song to sing."
- Tracie Sandheinrich, Kids Rock Cancer music therapist

The families of Cancer Support Community Families Connect Program experienced the power of community music making first hand during Healing in the Lyrics, a special Families Connect night. A board certified music therapist worked with families to transform feelings and stories into song. This therapeutic song writing process is an intervention that helps kids to express their feelings in a safe and spontaneous way. Families come together to create a special memory; as Tracie Sandheinrich, Kids Rock Cancer Music Therapist shared, "For many, this becomes a cherished, tangible token and memory for families that can be unbelievably powerful."

With a common mission to assist the Whole Family the Whole Time, Cancer Support Community's Families Connect and Maryville University's Kids Rock Cancer partnership has enabled Kids Rock Cancer to offer therapeutic songwriting services with a board certified music therapist to families affected by a cancer diagnosis at Cancer Support Community at no charge. "This has helped so many patients and families gain self-esteem, a safe place to process their feelings and emotions, and also provide them with an opportunity to communicate effectively about their illness. There is nothing more powerful to me than to see the emotional transitions I am lucky enough to witness during one of these sessions."

Cancer Support Community of Greater St. Louis (CSC) is a non-profit organization whose mission is to ensure that all people impacted by cancer are empowered by knowledge, strengthened by action, and sustained by community to enhance their overall well-being. All programs are offered at no charge in a comfortable, home-like environment. Cancer Support Community offers professionally-led support groups, educational workshops, healthy life-style and stress-management classes, and social connections to empower and educate individuals affected by cancer.

---
What's New In Our Garden
(February 21, 2017)
Cancer Support Community is excited to partner with Missouri Botanical Garden to expand the use of our Inspiration Garden. The inspiration for our garden is to help connect our community through growing and working together. During its first year in 2016, the garden provided fresh produce used in our healthy cooking classes and harvested by members for personal use. This year the use of the garden will be expanded to incorporate our entire CSC Program including support, education, healthy lifestyle, and social connections. Although the garden will consist of beautiful plants and flowers this year, there will be a small herb section to use in our cooking classes. Members experienced a sneak peek of what an educational class could look like by learning the multiple uses of lavender and creating take home lavender sachets. We are thrilled to see the fruits of our labor this year.

Cancer Support Community of Greater St. Louis (CSC) is a non-profit organization whose mission is to ensure that all people impacted by cancer are empowered by knowledge, strengthened by action, and sustained by community to enhance their overall well-being. All programs are offered at no charge in a comfortable, home-like environment. Cancer Support Community offers professionally-led support groups, educational workshops, healthy life-style and stress-management classes, and social connections to empower and educate individuals affected by cancer.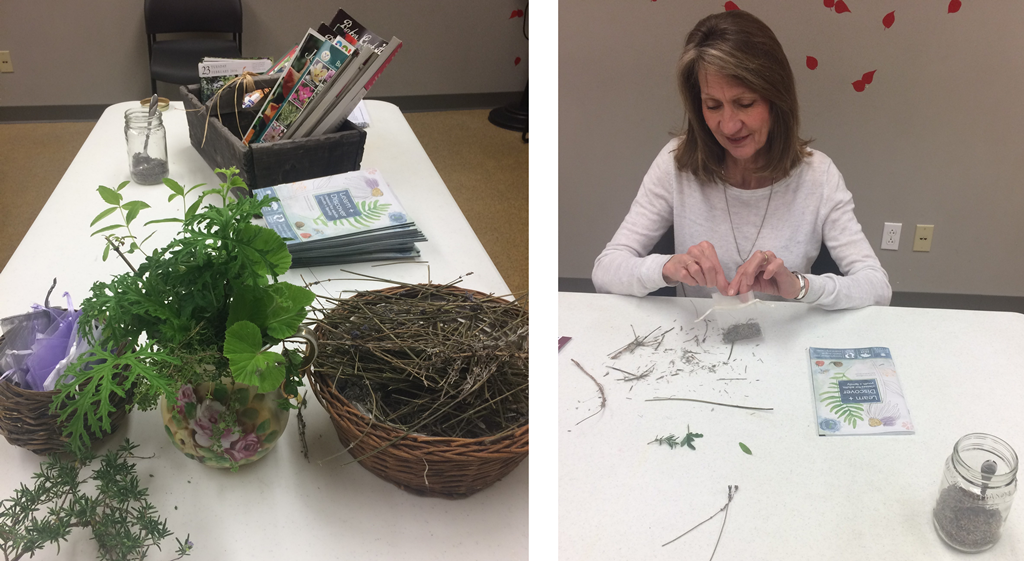 ---
The first of new Star Wars events for the entire family comes alive at Cancer Support Community.
(February 10, 2017)
In a galaxy far far away, Cancer Support Community of Greater St. Louis held an epic family night where the Star Wars film saga came to life. Families took a unique journey into the Star Wars universe through this one of kind experience. Our mission was to give the whole family an unforgettable night. The voyage began with iconic characters from the 501st Legion greeting community members from our Families Connect program. Their legendary trek was filled with photo ops, popcorn, cookies, and plenty of fun. As one member shared, "We love coming here. This is a fun family event we can share with other families."

Families Connect is a program offered by Cancer Support Community specifically for children and teens who have a parent, guardian or grandparent with a cancer diagnosis. One mother said, "This is a wonderful place to help navigate through the new normal." Here at CSC we believe that no one should have to face cancer alone. This force is stronger than ever.

Cancer Support Community of Greater St. Louis (CSC) is a non-profit organization whose mission is to ensure that all people impacted by cancer are empowered by knowledge, strengthened by action, and sustained by community to enhance their overall well-being. All programs are offered at no charge in a comfortable, home-like environment. Cancer Support Community offers professionally-led support groups, educational workshops, nutrition and exercise programs, and stress-reduction classes to empower and educate individuals affected by cancer.
---
The Whole Family, the Whole Time: Our New Families Connect Room and the St. Luke's Family Resource Library
(July 15, 2016)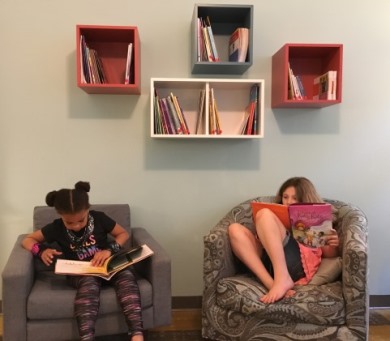 Cancer Support Community will introduce the Families Connect Room and St. Luke's Family Resource Library, funded in partnership with St. Louis Men's Group Against Cancer and St. Luke's Hospital, with an Open House and Ribbon Cutting Ceremony on Monday, August 1st from 5:30 -7:00 PM at CSC, 1058 Old Des Peres Road, St. Louis, 63131. Please call 314-238-2000 to RSVP.

The new Families Connect Room and St. Luke's Family Library, funded by St. Luke's Hospital through the St. Louis Men's Group against Cancer, will provide additional support and resources, not only for families with a parent or adult caretaker with cancer who are in our Families Connect group, but also for families in that same situation who have children under five years old who are too young for the family group.

One CSC Member, Justin, found the new family library helpful when revealing his cancer diagnosis to his three-year-old son and shared; "When I got my diagnosis, I was worried about a lot of things, especially what to say to my son, who was three at the time. CSC's library has been a tremendous resource for our family. We've found books that help us talk to him in an age appropriate way about what was going on with me. My wife and I are grateful that we had access to these resources that helped him process his own feelings and have a sense of control during what's been a really uncertain time."

This family friendly room hosts a variety of materials to support the whole family, the whole time. Books are available for children, teens and adult caretakers addressing cancer education, coping skills, emotions, bereavement, stress management and survivorship. Families will be able to take workbooks, stress management supplies, and enjoy the special space designated just for families with children and teens.

Providing resources through the Families Connect Room and St. Luke's Family Library is another way we can serve families as part of our overall Families Connect Program for families impacted by cancer with children and teens, which includes support groups like the Families Connect Monthly Networking Group and Kid Support™, educational programs such as how to talk to children and teens about cancer, healthy lifestyle/stress management programs like family yoga, and social opportunities.

---
VP Biden's Cancer Moonshot Leads to Local Partnership
(July 13, 2016)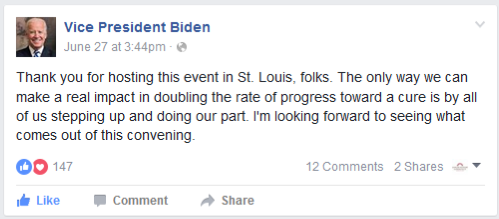 On June 29th, Vice President Biden convened a Cancer Moonshot Summit, including conversations in communities across the United States. These Summits were the first time that individuals and organizations representing the entire cancer community and beyond – researchers, oncologists, care providers, philanthropists, data and tech experts, advocates, patients and survivors – have all convened under the national charge to double the rate of progress toward a cure.

Locally, Cancer Support Community, American Cancer Society, and American Cancer Society Cancer Action Network partnered together to take action against cancer as part of Vice President Biden's Cancer Moonshot through the St. Louis Cancer Moonshot Summit. The St. Louis Moonshot Summit was an opportunity to share updates and discuss efforts to accelerate LOCAL progress in cancer prevention, diagnosis, treatment, and care while keeping the patient experience at the front of the conversation.

"Every day at CSC we see the power of Community in improving lives of people affected by cancer. It is always a good reminder to see that the power of Community extends to developments in treatment of cancer as well," said CSC Program Director Renata Sledge, LCSW.

Eighty local cancer survivors, doctors, volunteers and their families gathered to watch Vice President Biden make remarks on the status of the National Cancer Moonshot and listen to the panel discussion with cancer experts including speakers from CSC and ACS.

On the panel, CSC Program Director Renata Sledge, LCSW, discussed the patient experience with clinical trials and how it's changed. She shared information and statistics from the Cancer Support Community report, Refreshing the Dialogue on Clinical Trials. Thirty years ago if you had asked people facing cancer what they thought about participating in a clinical trial, you would probably have heard responses like this. "I am worried about being a guinea pig or a lab rat." "I don't want to take the chance of getting a placebo." "I don't think there is any real benefit for me." Or, "I don't trust the medical profession."

Since that time, there has been steady (and in some cases amazing) progress in improving the outcomes of treatment for many cancers. Every step of that progress is the result of cancer clinical trials. Designed to make sure new therapies are safe and effective, clinical trials are the engine that drive cancer progress. Patients who join these trials have access to the newest therapies and excellent care. By joining a clinical trial, they give themselves hope for longer and better lives. They also contribute to better cancer treatment for others facing cancer.

The good news is that more and more people are considering a cancer clinical trial when they are first diagnosed – and that helps speed up breakthroughs in cancer care. But there is clearly a need for more people to learn about and consider this option. Cancer Support Community will address this need by offering an educational workshop, Frankly Speaking about Cancer Clinical Trials, October 29th, with speakers from Siteman Cancer Center and St. Louis University Cancer Center. Call 314-238-2000 for more information.

---
New Inspiration Garden Provides Community, Healthy Food and a Place to Gather
(July 11, 2016)
A long-time dream of the organization and of one Board member especially, our new Inspiration Garden, donated by CSC Board Member Robin McClanathan, was designed and built in the Fall of 2015. The garden now provides a space for members and volunteers to socialize and collaborate to grow flowers and plants for enjoyment and veggies and herbs for healthy cooking in Miss Mary's Healthy Kitchen Programs, and so much more!

CSC Program Coordinator, Dannielle Hodges, MSW, LCSW, who's worked closely with the Garden Club, spoke about the garden's role in our community; "The Inspiration Garden has provided so many opportunities for our members to come together in community whether it be the planning and sharing of ideas, to physically working together as a team and now enjoying the fruits of that labor. This garden has allowed members to share their horticultural, creative and artistic talents with one another and to contribute to the community by providing produce for nutrition classes and whoever wants to enjoy it."

While waiting for the Spring ground-breaking, Garden Club members met frequently to plan, design and gather supplies. In April, CSC Garden Club member Marsha Phillips secured a donation of bags of soil, fertilizer, compost and other garden supplies from Lowe's in Arnold, where she works. We are grateful to Store Manager Brian Andrasko and Lowe's for these useful supplies. In April, Garden Club members also went on working field trips to our partner, EarthDance Organic Farm School 's location, for hands-on education including weeding, mulching, planting and clean-up.

After months of planning, on May 27th, our Garden Club members broke ground on our Inspiration Garden located in the courtyard by our Miss Mary's Kitchen. With the help of Kaitie Adams, Volunteer Coordinator at EarthDance Organic Farm School, members planted our first round of vegetables, herbs and flowers in our garden. In June and July, Garden Club members have enjoyed harvesting vegetables and sharing them with the community. Vegetables are shared with members in a basket in our kitchen.

The Inspiration Garden has been woven into all of our Programs and community. During a recent New Member tour, Program Director Renata Sledge witnessed other group members enjoying a salad made from freshly harvested vegetables. Last month, Families Connect Monthly Networking Group members worked with teaching artist Maria Ojascastro on artistically claiming their own space in the garden and planting ingredients to top their pizza at a future Families Connect meeting!

Our next big garden milestone will be our Garden Club Harvest Gathering on Wednesday, September 28 from 6:30 – 8:00 PM. Join us and celebrate while we sample the produce from the garden and honor the work and connections we have made in the Inspiration Garden.

---
The Member Experience: 2015 Program Survey Results
(July 08, 2016)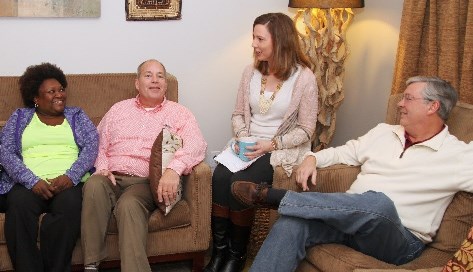 At Cancer Support Community we say that we "empower lives" and "inspire hope". How do we do achieve those lofty goals? CSC offers up to 16,379 hours of programs equating to over $982,740 of professional service to our members annually at no charge to them. Since 2010, we have also measured quantitatively and qualitatively how well we are serving our members and how the lives of members are affected by attending our programs through our annual program survey so we can continue to make improvements and adjust to best serve our members.

Our members shared that some of the ways our programs benefited their lives are that they feel more connected to others, are more able to access community resources, have opportunities to find hope and meaning, are better able to express their full range of emotions, and feel more empowered to make informed health related decisions.

Often someone facing a cancer diagnosis finds that even family and friends may not understand what they're going through. One CSC member shared that "I can come here and be understood. This place offers programs that help me cope with life as it comes…" and another shared that CSC is "such a comfortable place to experience new things or to delve deeply into complex issues. It is a place where people "get it."

From the moment of diagnosis through treatment and beyond, the effects of cancer aren't only physical – there is a profound emotional and social impact as well. Joining a community of people who have experienced cancer firsthand can decrease the sense of isolation and empower you as you live with cancer. Another CSC member shared that CSC "was my lifeline. It kept me going."

Our 2015 annual program survey showed that member satisfaction with programs remains high and the experience overall was a 4.82 out of 5, where 1 is "Not at all satisfied" and 5 is "Very satisfied". It's great to measure program satisfaction and gather feedback, but how do we use these results? Our program department analyzes our annual program survey results and anecdotal feedback and integrates information about program satisfaction, perceived benefit and demographics into our Individualized Wellness Plans and program planning.

Your support allows us to offer quality programs managed by licensed mental-health professionals and to continue to measure and improve them based on participant feedback so we can continue to empower lives and inspire hope in the community.

---
Cancer Support Community Builds a New Website, Designed with the User in Mind, with the Help of the Staenberg Family Foundation
(June 10, 2016)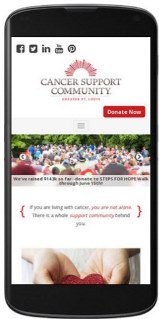 With the help of a matching grant from the Staenberg Family Foundation, Cancer Support Community worked with Hier Intelligence on designing a new website to better tell our organization's story to our friends, members, donors and partners.

Cancer Support Community's new website has an updated look and is easier to navigate. The new site has fewer navigation categories (easier to follow categories like Get Support/Give Support) and is less text heavy -- making it easier for people to find our programs, services, events and how to donate and volunteer.

In the header of every page above the navigation bar, we have social media icons on the top left and the "Donate Now" button on top right, and on the footer of every page, we have our contact information and email sign up, so that people can easily find where to donate and connect with us.

Our website now has responsive design so that it automatically resizes and looks and works correctly in mobile phones, tablets, and desktop computers and the Donate Now button stays in prominent upper right spot. With 80% of internet users owning a smartphone and 51% of internet time spent on mobile devices*, this is an important update Cancer Support Community has needed to be more accessible to the public.

Our website has a scrolling image bar at top of homepage highlighting our news, upcoming featured programs and fundraising events allowing us to better promote our organization, programs and fundraising activities.

Every page now has scrolling bar of community partner logos that will link to those companies who are our top supporters allowing us to recognize our key donors.

Additional features on our new site through our Neon CRM software are a program calendar that links to program descriptions and register links, improved donation forms and improved program registration form with the ability to register for more than one program at a time and ability to register more than one person at a time.

Our hope is that our new website, designed to make everything easier for the user, helps people find us and find out about our programs, services and events for people impacted by cancer in St. Louis.

*Source: State of mobile marketing 2015 report by Mary Meeker via Kleiner Perkins Caufield & Byers

---
Nominate a Pharma Hero and Support CSC
(April 01, 2016)

At the beginning of 2016, UBC, an Express Scripts Company, launched the Pharma Heroes Program. Designed to shine a light on the heroes of the pharma and biotech industry, the Program celebrates the remarkable and largely unrecognized daily acts that move the industry forward.

Throughout this year, anyone can nominate a Pharma Hero online by visiting www.PharmaHeroes.com. For each nomination, UBC will notify the Pharma Hero and donate $25 to Cancer Support Community. It's a great way to recognize individuals who go above and beyond, but rarely seek attention for their efforts—and to help those facing cancer in St. Louis. We are thrilled to be involved!
---