Host A Fundraiser
We welcome businesses, organizations and individuals to hold fundraisers or host parties to benefit Cancer Support Community. Invite your employees, friends, family and colleagues to learn more about CSC and have fun at our facility or the venue of your choice. Some ideas are Card Parties, Book Club meetings, Wine Tastings, Golf Tournaments or Bike Rides.
If interested in planning an event to benefit CSC, please contact Tricia Hendricks at 314-238-2000 or thendricks@cancersupportstl.org

Look What Others Are Doing for CSC
Upscale Resale Hosts Party to Benefit CSC

Vanessa Keith, owner of Upscale Resale, and CSC Board Member Mary Reitz hosted a party on April 7th at her unique resale shop on Manchester near Sappington. The shop sells women's clothing and accessories. Vanessa generously donated a portion of the sales generated by the party to CSC. We extend our gratitude to Vanessa and Upscale Resale!

Joseph Kemp and Jeff Bloomrosen: Another Successful Bike Ride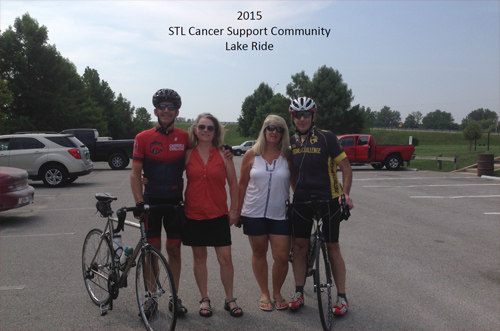 Photo caption: Joseph and Robin Kemp, Barb and Jeff Bloomrosen

Joseph Kemp and Jeff Bloomrosen raised over $3,000 for Cancer Support Community through their 411-mile fundraising bike ride from St. Louis to Lake of the Ozark and back on September 5 and 6, 2015. Their eighth fundraising ride together, they do so to honor their loved ones who have faced cancer, including Joe's wife Robin, who recently reached her 13-year milestone as a cancer survivor. Joe and Jeff dedicated this year's ride to Carolyn Marzano, their dear friend and a CSC member who passed away this past February. We are grateful for Joe and Jeff's inspiring efforts and to all of those who supported them.